Feeding a raw food diet represents a grow­ing trend among owners hoping to improve their pet's health, but it may cause a potentially fatal salmonella infection, according to a study by the University of Georgia College of Veterinary Medicine (Athens).
While raw food diets are becoming increasingly popular among pet owners, there is a growing body of information showing that these diets pose a health risk not only for the pets that consume them, but to their owners as well. Researchers at the university traced the cause of death in two cats to raw beef used in their home prepared diets. The cats developed salmonellosis, which caused gastrointestinal upset, weight loss and anorexia.
The study is the first to describe the occurrence of salmonellosis in cats as a result of feeding a raw meat based diet.
While most human cases of the disease result from direct exposure to contaminated food, the study also found that the disease can be spread via direct and indi­rect contact with infected pets.
In cats and humans, the very young and very old, as well as those with compromised immu­nity, have the highest risk of infection.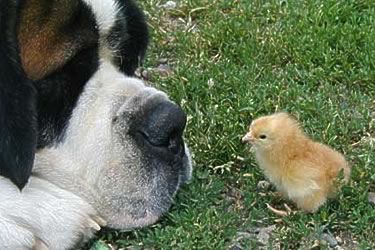 Many opportunities for exposure to salmonella exist through petting, grooming, food preparation, and contact with water bowls and litter boxes.
According to the study, the documented recovery of salmonella from the feces of sled dogs and greyhounds fed raw meat contaminated with the bacteria also suggests a risk of human infection from contact with infected dogs.
Due to these risks, the AAHA recommends that pet owners not feed their pets a raw meat diet. AAHA also encourages owners to ask their veterinarian for advice regarding a nutritionally balanced diet that is appropriate for their pet's age and lifestyle.
A substantial body of science based nutritional data has contributed to the longer life span that our companion ani­mals currently enjoy.
Your veterinarian uses these resources to provide nutritional recommendations that will help your pet live a long healthy life.
For pet care information or a referral to an AAHA veterinary hospital, owners can visit
www.healthypet.com.
So why is pet food cooked today?
Raw is obviously natural as the dogs and cats of old and in the wild didn't cook their food before they ate it. However their food was cleaner in that it was killed relatively recent and not exposed to too many other things by the time it was eaten.
Pet food ingredients today have great opportunities for contaminations from many sources. Because of these opportunities for contamination cooking is important to kill harmful bacteria and parasites that may cause disease.